Meet Alexa!  She's an artistic, happy and sweet new camper coming to use from North Jersey.  She's a current 3rd grader and will be an Upper Junior Girl this summer.  She loves to ride her bike and is looking forward to glass fusions, photography and ceramics at camp…and of course the lake!!  Some of her favorite things include cucumber rolls, the color purple, pandas, the NJ Devils, Taylor Swif, art, tootsie rolls, and the "Ivy and Bean" book series.  She's an amazing big sister, and will be an awesome bunkmate this summer!
Meet Chloe!  Carli and I loved spending time with this 4th grader from Lafayette Hill, PA and she'll be heading to camp for the first time this summer and will be a Lower Inter Girl.  She's a creative, sweet, and very friendly girl, and loves to be called by her nickname Coco!  She also likes to play piano and loves art, especially painting.  We loved seeing all of her cool artwork hung up on her walls! At camp, she's looking forward to doing a lot of activities in the art shack, being a part of our rock band, and spending time with her twin sister Maya.  Some of her favorite things include pasta, Twix, the movie Minions, listening to Imagine Dragons, and reading her favorite book The Last Of The Really Great Whangdoodles.  Chloe loves the colors blue and green and is so excited to decorate her bed at camp with a lot of blue, green, and stuffed animals!
Her twin sister Maya (in the blue shirt above!) will be spending her second summer at camp and will also be a Lower Inter Girl.  She's been in touch with her camp friends, and had such an awesome summer…especially at the lake!
Meet Gabby!  She's a silly, crazy and smart girl who is interested in fashion, and lives in North Jersey.  She's in 3rd grade, and will be spending her first summer at camp as an Upper Junior Girl.  She loves her family, playing with dolls and having dance parties.  At camp this summer, she's looking forward to doing fabric art, drama, softball, playing tennis, going to the batting cage and of course going swimming!  Some of her favorites include cooking in the blender (she loves avocados like me, and tons of other foods like hamburgers, hotdogs, mozzerella sticks, sushi, cupcakes…), she roots for the Giants, Yankees and Islanders, her favorite TV show is Liv & Maddie, but she also loves the Goldbergs.
Gabby's big brother Alex will be spending his 3rd summer at camp (wow, time flies!!) and will be an Upper Inter Boy.  He's in the middle of basketball season right now, and has been loving going to Giants tailgates this year with his dad (they've joined Brian's crew!!).  He also just hosted an amazing reunion with some of his camp buddies, let's just say they were up kinda late…
Meet Mia!  She's a fun, crazy and funny 4th grader from Livingston, NJ who is heading to camp for her first summer as a Lower Inter Girl.  She goes by many nicknames, including Meis and Mimi.  She absolutely loves dancing, and playing with her rabbit Coco.  At camp this summer, she's looking forward to zumba, photography, and ceramics wheel.  Some of her favorite things include mac & cheese, sheep (love that answer for favorite animal!), the "Dork Diaries" book series, Selena Gomez, singing, playing softball (her team is called the Thunder), the color red, and Grumpy Cat.  She also doesn't really love candy…she will gravitate towards chips at the canteen!
Meet Ruby!  She's a 2nd grader from Livingston, NJ and she'll be heading to camp for the first time this summer and will be a Lower Junior Girl.  She's a creative girl who comes up with the best ideas, and likes to spend a lot of time upside down.  She's also a very slow eater, and likes to laugh a lot!  When she gets home from school, she likes to get her homework out of the way and head to the basement to practice tumbling and her cheerleading moves.  At camp, she's looking forward to continuing to cheer, doing gymnastics, art and ceramics.  Some of her favorite things include noodle kugel, chocolate, cheetahs, cooking (she likes to make cookies and brownies) and poetry.  She also likes the movie "Spaceballs" and the song "Party in the USA"!
Ruby's big brother Steven is currently in 3rd grade, and will be am Upper Junior Boy this year.  It'll be his second summer at camp, and he's an awesome big bro who will be looking out for Ruby.  He was one of our MACHO Award Recipients last year (it stands for My Actions Can Help Others) and we watched the video of him getting this amazing award recognizing the fact that he makes the Camp Canadensis community a better place for everyone!
We celebrated the 4th night of Chanukkah together, and lit the candles – it was SO nice!  They both got amazing books that night.  Stevens was all about art and Ruby's was full of inspiring National Geographic photos!
 Meet Sammy!  She's a cuttent 5th grader who will be coming to Canadensis for the first time this summer, and she'll be an Upper Inter Girl.  This active, caring and energetic girl lives in Lower Gwynedd, PA.  She's pretty serious about dance, and totally loves it!  So, of course she's looking forward to dancing at camp, but she's also looking forward to getting creative in the art shack and ceramics.  Some of her most favorite things are bagels, challah (we have both at camp!), the color blue (like she's wearing above), dogs, The Goldbergs TV show, soccer, listening to Meghan Trainor music, kit-kats, and both the old and new Annie movies.  She loves singing, dancing and doing art…and enjoys reading the "Harry Potter" book series.
Sydney is Sammy's little sister, and she's in 3rd grade.  This will be her 2nd year at camp and she'll be an Upper Junior girl.  We flipped through an amazing book of photos from her first summer at camp.  She had an amazing time soaking up all the camp fun, and she cannot wait to see how we top it in summer 2016!
Meet Talia!  She lives in Lower Gwynedd, PA and is currently in 3rd grade.  This will be her first summer at camp, and she will be an Upper Junior Girl.  She's unique, artistic and fashionable and goes by many nicknames…including T, Tal and TT.  After school, she loves to play on her iPad and chill, but at camp she cannot wait to dance, go to the art shack and play tennis.  She's looking forward to doing waterslides and glass fusion as electives.  Some of her favorite things include pizza, dogs, the Phillies, Taylor Swift, chocolate and artistic pursuits.  She loves the show "Liv & Maddie" and "Sabrina the Teenage Witch" and the "Victoria Foresters" Books (The Girl Who Could Fly), and all things hot pink!
Big sister Madi is in 4th grade, and will be back at camp for her 2nd summer as a Lower Inter.  Her first summer at camp was out of this world, and about two months after the summer she celebrated her 10th birthday with her bunkmate born on the same day, and all of their camp friends.  It was so much fun hearing about the bunk sleepover!  Now she's looking forward to the camp reunion!
As I type this blog, I'm already starting to look ahead to the many trips I'll be taking in the weeks ahead.  Although my typical trips bring me to the tri-state area to meet awesome new campers, soon In January, I'll be heading abroad to Australia, New Zealand and the United Kingdom, and I cannot wait to see our past staff members, and have the opportunity to interview and bring incredible new staff members to Canadensis this summer.  In February, I'll be in Western Pennsylvania and down in Maryland meeting staff applicants on college campuses, and in March we'll be heading to training conferences in Atlanta and Atlantic City.
If we've emailed lately to setup a home visit for your new camper, talk about the packing list, or just catch up about camp, you probably noticed that my last name has changed!  I've gone from Pam Levi to Pam Malter, because I've recently been lucky enough to marry our absolutely incredible Senior Boys Head Counselor, Dave Malter!  My husband (still makes me smile to say it!) and I feel so grateful to our family and friends, and we feel like the luckiest people on Earth to have found each other, and to have been able to celebrate.
We loved having so many of our Canadensis family members at our nuptials.  We all gathered in New Hope, PA and although we've only seen a few photos so far, I wanted to share some of the special moments captured by our photographer Emily Wren.
Dave and I were so honored to be married by our dear friend Aaron Selkow.  He planned the most beautiful, meaningful and personalized ceremony.  Not surprisingly, he's comfortable in front of a crowd because he's the director at Camp Harlam!  (Shhh…Dave and I were actually married by a rabbi a few weeks before our "wedding date" at Dave's grandmothers assisted living facility…but not many people knew that we were already wed!)
Did you know that I've been obsessed with RVs since I was a kid?  It's always been my dream to have one, and we rented a VW camper van as our getaway car!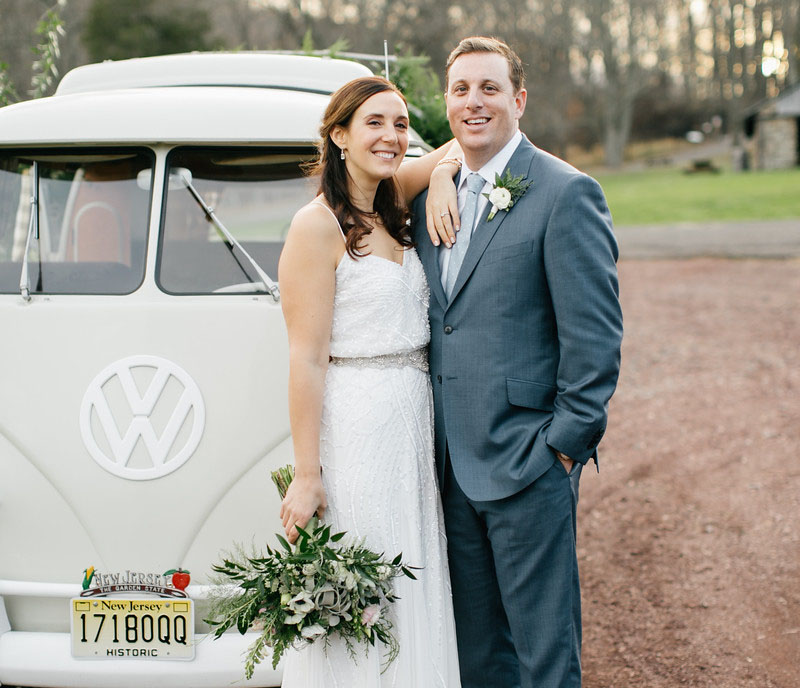 It was perfect!
We worked on our first dance a bunch before the wedding…but I got out there and totally had stage freight!  I'm so impressed with our kids who can get up in be in the camp show and dance competitions because I totally spun out of control during our dance.  But, our amazing photographer managed to get one good shot!
We had a kid bridal party!  5 flower girls, 1 ring bearer and 1 glass bearer helped make our celebration extra adorable!  If you didn't already know that we LOVE kids, the fact that we had 30+ children at our wedding should tell you a little something about importance they have in our lives!
I love to get crafty – and putting the invitation together was a lot of fun!  In the top right of the photo above you will see the unbelievably special ring box that our wood working director Jay made for us!
Our wedding took place on a Sunday morning, so our programs were a Sunday Morning Newspaper!  Complete with a crossword puzzle and an ad for the best camp ever!
Instead of typical place cards, we thought giving out mugs would be more in line with our Sunday Brunch nuptials.   We had so much fun in the past few months searching for special mug for each of our guests.
Who doesn't love to snuggle?  We got lucky with a beautiful winter day (it's been SO warm lately!) but just incase we wanted to invite our guests outdoors so we had blankets at the ready!
There were so many fun details…I apologize ahead of time if I share even more photos once we get back pictures with our Canadensis wedding guests and amazing counselors who volunteered their time to watch our kid wedding guests!  This last photo shows some of the games we had out on tables during cocktail hour, our cake (with cannoli filling!) and our RSVP cards that were madlibs were so much fun to read!